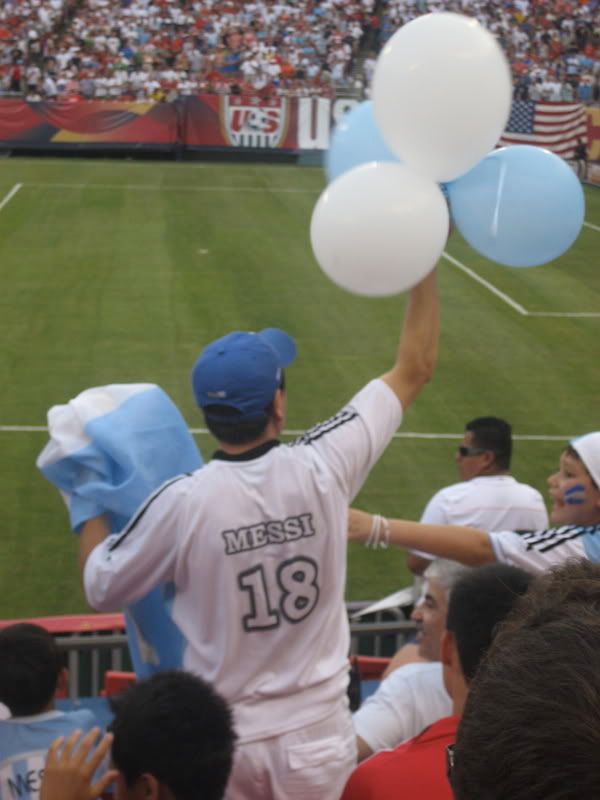 It's still unacceptable, for some preposterous reason, to repeatedly scream "cunt" at the officials or opposing players in American soccer stadia. That saddens me.
For no matter how many people show up to surround the U.S. men's national team, no matter how loud the wall of sound from the crowd becomes, we'll just never be as cool as our British friends. And that's some separate but equal shit right there.
It wasn't exactly three-ring, but The Meadowlands on Sunday night actually featured a bit of circus atmosphere for the highly anticipated friendly match between these United States and the arbitrarily ranked number one team in the world, Argentina.
Lionel Messi
and los Albicelestes came to town just days after our two incredibly putrid friendlies against England and Spain, efforts that showed the Americans to be outclassed, listless and unworthy of even a modicum of national pride. If we even had an offensive attack to speak of, I'd probably say nasty, nasty things about its wardrobe, hygiene and general demeanor. There's a chance I'd even start rumors about its sexuality.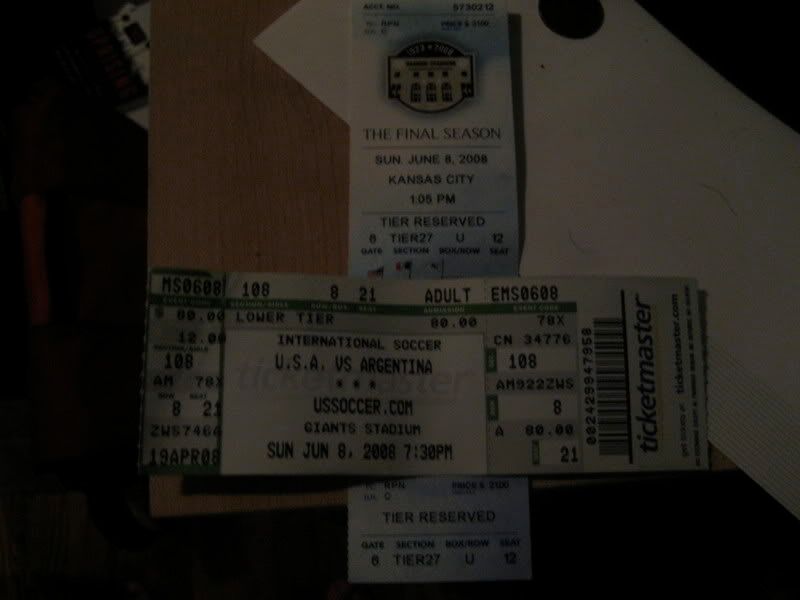 But this was a two-stub day for Don Fiedler, Handstand the Younger and your intrepid field reporter, and by game time we couldn't have been more geeked up for this one. Recent performances, be damned. And as the national anthem blared for the second time in seven hours, we all did our
best Carl Lewis impersonations
and belted out the Star-Spangled Banner loudly and awfully, but with
feeling
. And I remember thinking, this is the first in my life that I'm singing the anthem
for real
, for my country, for my national team. We had just heard it at Yankee Stadium hours earlier, and it meant nothing. This rendition, however, was like beating off lefty: new, special and unequivocally enthralling.
Seven hours earlier in a neighboring state, relief wunderkind Joba Chamberlain took the hill against the Kansas City Royals for his second ever start in Yankee pinstripes. The heat and thus far mediocre Yankums play combined to make the stadium as dispirited as the aforementioned USMNT attack.
In fact, the crowd only buzzed on four separate occasions in the first five innings -- three times for Joey Gathright's stellar running and/or diving catches in center field, and once when Gathright fouled off a Joba fastball into the now-disfigured grill of some poor lady on the third-base line. (By the way, if you haven't seen footage of Gathright hopping over a BMW as effortlessly as an Edwin Moses hurdle, check this shit out...)
Joba lasted four and a third innings, an equally impressive and frustrating outing for a guy who will surely get the hang of this sooner rather than later. We lasted only one more inning, preferring to leave our
upper-deck seats
in the lifeless stadium in order to tailgate in the Meadowlands' parking lot for a few hours with what seemed like every Argentinian in the NY/NJ/CT tri-state area. The split of the 78,000+ at Giants Stadium on Sunday was about 50/50, but the lot scene seemed full of people that rooted for Gabriela Sabatini over Pam Shriver all those times in the late '80s (What? Seriously? Just an awful reference).
(Entering the stadium)
The Argies were boisterous and cocky, knowing their 11 would just roll over an inferior foe. We were boisterous and cocky, just because we're assholes. But we knew there was NO shot of U.S. victory, not with a beefed up Argentina squad missing only a few key regulars -- we heard that
Carlos Tevez
was off on an Abercrombie model shoot.
We had 8th row seats pretty close to the net we defended in the first half, in ridiculous proximity to some of the best players in the world (sorry, Landon, I meant the Argies) and only a couple sections from the horribly uncool but surprisingly cool Sam's Army, our most rabid supporters.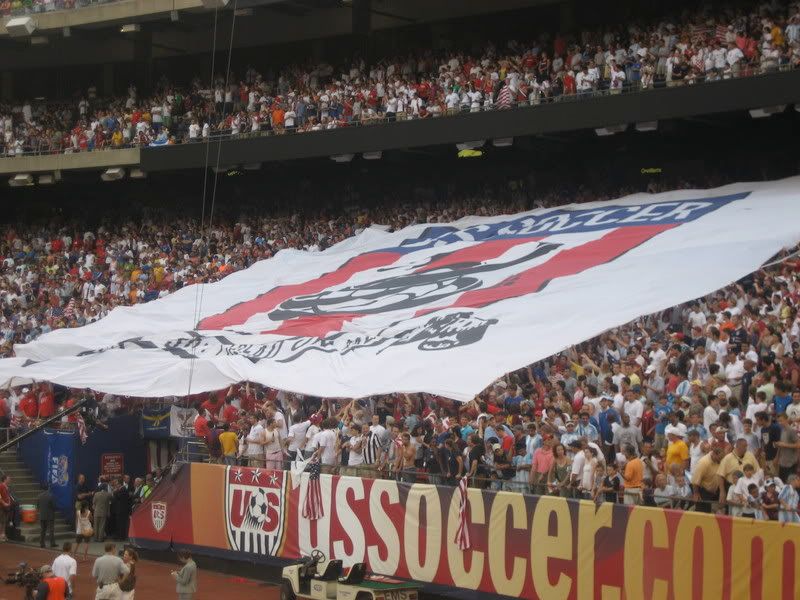 Donnie tried as best he could to start a couple rounds of "You're a Grand Ol' Flag," but nobody obliged. And nary a soul joined in with his "Your steak is overrated" chant. Alas, we couldn't even find a giant placard and Sharpie to write "World's Number One...In Runaway Inflation." And I spent the evening trying to figure out how to fit "We're better 'cuz we don't let
former first ladies become presidents
" in rhyming sing-song, but I just couldn't make it work. Nonetheless, we sang, we chanted, we bounced up and down, we made friends, and we saw a hell of an effort from our boys.
I won't recap the play-by-play that night. That's why we have the good people at
That's On Point
. But when Tim Howard stoned the Argies four or five times from point-blank range in the first half, we realized that this wasn't going to be a blowout. And as time wore on, we realized this may be a draw. And as the rain began to pour down on a heat-soaked crowd begging for the precipitation, we realized that we may actually win this fucker. Could we take it? Could we pop up with something, maybe a set piece in the rain? I thought maybe, and captured this quick video:
With suspicious red cards handed out to one man from each team, the 10-on-10 open play on a slick pitch made for some thrilling moments. Nothing materialized, and ultimately the match ended in a scoreless tie -- eat your heart out, soccerhaters -- but it was absolutely entrancing, especially for a friendly.
There are 162 baseball games a year for your favorite team, and over the many years of fandom, only a few of them will truly stand out as special. Eventually Yankee Stadium becomes old hat. But this night at Giants Stadium was really the first time I've ever felt a special pride in my country's national team, one that got me on my feet and jumping like a kid again, and this one will forever stand out as special.
An at the end of a grueling day, I was exhausted but genuinely proud of my country and its recently clueless national team. That rain was the capper on a brilliant day -- one victory that felt like a draw and one draw that felt like a victory. Perfect in every respect but one: that referee was a fookin' cunt.